Continuing Our Wellness Journey, Mama Duck & Roadblocks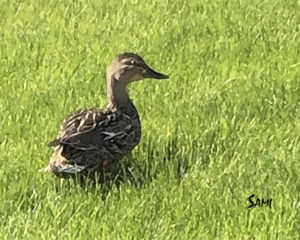 In our continuing journey, Mama Duck has hatched her eggs and her little brood headed for water. She said goodby as she got ready to leave but I missed the departure. As the last egg is laid, the female starts to incubate. She rarely leaves the nest apart from short breaks. About 28 days later the eggs hatch together. This takes about 24 hours. The ducklings stay in the nest for at least 10 hours while they dry and get used to using their legs. Then, usually in the early morning, the female leads them to water. It is probably a good thing I missed it, as you aren't supposed to scare them during this time and taking pictures might have made them all run in different directions. So the fencing came down and my dogs have checked out their territory and declared it theirs again. We wait for the next wildlife adventure.
Are you continuing your journals? What feelings did your journal reveal?   How is your journey of self-discovery coming along?  Are you hitting roadblocks? I finished my first Ta'i Chi classes, but I fell this weekend and will have to wait until my knee heals. Again life's little happenings.  I stubbed my toe on the rubber on a speed bump. Although it is aggravating, as I didn't do this before the accident, I am healing and sending positive thoughts to my bruises. The only thing I can think of that depicts the fall is SPLAT!!! like the comic books. Trying to see the humor in this :). Laughter is the best medicine.  How are your exercises? Have you tried any of the exercises I suggested like chair yoga or water yoga or Ta'i Chi?