Recap from last week

Environmental wellness is important for our health and the health of  Mother Earth. My trees must have reached a new maturity this year. They were planted 10 years ago and were good sized at the time. I have lots of birds and wildlife this year. A mother robin has decided to make her nest in a pine tree right across from my deck steps.  She has been bombing my dogs as they go outside. They now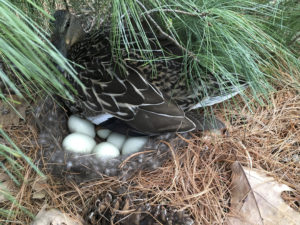 wait for me to go with them.  And I always feel it is spring when the little jenny wren appears in my front yard. My traveling companion, Mama Duck, is still sitting on her eggs.
Last week we started our journals. What feelings did your journal reveal?   How is your journey of self-discovery coming along?  I am finding my mindfulness meditations with the Ta'i Chi exercises to be very relaxing. They keep me centered and help me release my energy. Having an injury can block our energy and that can keep us from healing. How are your exercises? Have you tried any of the exercises I suggested like chair yoga or water yoga or Ta'i Chi? Even with physical disabilities, it will help your flexibility and growth. I was able to swim another lap this week with less pain. The Ta'i Chi is helping with my breathing and energy as well.  Another fun exercise is a lazy river where you walk in a pool and either walk with the current, or against the current.  The lazy river is a low-impact workout and great for joints. If you have sore joints or if you're recovering from some sort of injury, this is a perfect opportunity to use water therapy. I go to the local recreation center at least once a week to walk the lazy river and then swim at least one lap.
Why Should We Be Vegetarian
I would actually love for you all to go vegetarian or vegan. Compassion for animals was a big part of my reason for doing so, and so I'd love it if nobody ate them. I lived in the city when I grew up and never thought about what I ate. I just got it at the grocery store. And then I married someone from the country and found out that we were eating Rosy the cow. That was the beginning of my awareness. Taking yoga classes and meditation was the next enlightening moment for me and I took my family on the journey. My daughter stayed vegetarian and is vegan today and two of her three daughters are vegan while her other daughter is vegetarian.
We become interested in vegetarianism for all sorts of reasons. Some of us want to live longer, healthier lives. Others want to help reduce pollution. Some of us have made the switch because we want to preserve Earth''s natural resources. And, like me, some have always loved animals and are ethically opposed to eating them.
Over the next few weeks we are going to look at the three main points of why we should be vegetarian. The first point is for our health (we actually eat too much protein in a protein crazed society). Even the federal government recommends that we consume most of our calories from grain products, vegetables and fruits.  An estimated 70 percent of all diseases, including one-third of all cancers, are related to diet. A vegetarian diet reduces the risk for chronic degenerative diseases such as obesity, coronary artery disease, high blood pressure, diabetes and certain types of cancer including colon, breast, prostate, stomach, lung and esophageal cancer.
The second is the environment (factory farming is a leading cause of global climate change).  About 70 percent of all grain produced in the United States is fed to animals raised for slaughter. The 7 billion livestock animals in the United States consume five times as much grain as is consumed directly by the American population. "If all the grain currently fed to livestock were consumed directly by people, the number of people who could be fed would be nearly 800 million," says David Pimentel, professor of ecology at Cornell University. If the grain were exported, it would boost the US trade balance by $80 billion a year.
Third is  animal rights (we must speak for those who cannot speak for themselves, and the terrible conditions of the farms they are in).  Unlike the farms of yesterday where animals roamed freely, today most animals are factory farmed: —crammed into cages where they can barely move and fed a diet tainted with pesticides and antibiotics. These animals spend their entire lives in crates or stalls so small that they can''t even turn around. Farmed animals are not protected from cruelty under the law——in fact, the majority of state anticruelty laws specifically exempt farm animals from basic humane protection.
Weekly Healthy Gardening Tips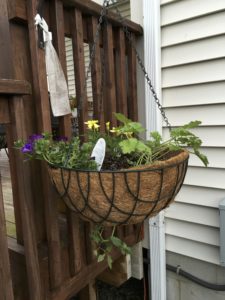 I planted some of my tomatoes in these hanging baskets with flowers or herbs and vegetables on top. I planted marigolds with the tomatoes and find it keeps the bugs off. I haven't tried the upside down gardening so I am interested to see how this works.  I also planted  pole beans with sunflower seeds and added nasturtiums and basil. As I don't have the space to have a big garden, I have planted the vegetables among my flowers and shrubs. It should be an interesting experiment.  I'll share my herb garden next week.
This Week's Favorite Healthy Recipe
This week I had potato, onion, bean and spinach soup, vegan style. It was sooo good! And I used a crock pot which was great as I had a really busy day.
Ingredients
3 lbs. little red potatoes, cubed 1/2 inch
2 medium/large onions, diced small
2-3 garlic cloves, minced
2 tablespoon olive oil or 1/4 cup water (water saute)
1 1/2 teaspoons each fresh tarragon, rosemary, oregano, cilantro, thyme, cumin pow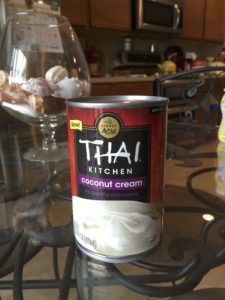 der and a
pinch of red pepper flakes and fennel seeds
3 cups cooked or 2 cans (15 oz.) cannellini beans (drained and rinsed)
1 8 0z bag fresh spinach leaves, chopped
5 cups vegetable broth
Himalayan salt & fresh cracked pepper to taste
1 can coconut cream (be careful that it is coconut cream and not cream of)
1/3 cup flour
1/4 cup Earth Balance margarine (1/2 stick)
In a skillet, heat oil/water over medium-high. Add onions & garlic and saute until softened, about 5 minutes. Add in herbs and spices, cook until fragrant, about 1 minute. Put this in the crock pot that is heating with the potatoes, beans, broth, spinich and salt & pepper to taste. Cook on low about 8 hours. About 30 minutes before serving, I added 1 can of coconut cream slowly stirring as I added it. Then I melted the butter in a skillet on the stove over medium-high heat until it has melted.  Whisk in the flour until it is completely combined, and then cook for 1 minute, stirring occasionally. I added this to the soup slowly a little at a time, stirring. Let this cook about 30 minutes to thicken. Let cool a few minutes before serving.
Serve  topped with chopped parsley if you like and a slice of crusty bread to soak up the juices.
Serves 4 – 6
The Road to Self-Discovery
What are your questions about Wellness? Are you dreaming of new things? Are you still making new plans?  Do you take the time to dream or meditate? Have you finished everything you wanted to do? If not, why not? Share with me! Do you have any favorite healthy recipes?  Do you like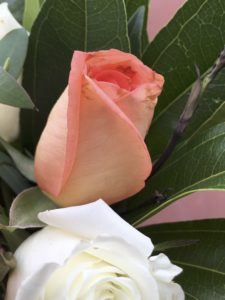 to garden? Since we have discussed why we should be vegetarian this week, in the next few weeks we will be looking more closely at vegetarianism and also the vegan lifestyle. It should be fun comparing the two and going a little further in our exploration of a healthier dietary lifestyle. We will also look at healthy ways to garden. And I will continue with the next steps I am taking as I did this week.
I also will be taking the  time to stop and smell the roses or begonias and geraniums, and enjoy today, as I hope you will.   I am enjoying all my newly potted flowers, some of them have even been indoors this week as it decided to snow this weekend.  I included some of the photos of my vegetable that I took this week as I planted my flowers and vegetables.
We can learn from yesterday, enjoy,  grow, and be mindful in today, and dream and plan the future. Safe journeys until next week :).  I really like the fact that I am becoming a mindful traveler and gardener. If you like my photography and art, I started painting again and you can see my paintings and photography on my art website.