Continuing Our Wellness Journey

This week we have been having lots of rain and the flowers and vegetables are looking beautiful. The featured image this week is my fountain with the garden of flowers and mint around it. The little wren sits outside my studio window and sings her energetic bubbly song and reminds me that this is summer. Certainly the temperatures in the 50s don't remind me of summer. This week we will talk how easy it is to become a vegetarian and what's new in the garden and I have a fun, very simple rice recipe for you.
Are you continuing your journals? What feelings did your journal reveal?   How is your journey of self-discovery coming along?  Are you hitting roadblocks? I started therapy for my post concussion syndrome this week and I will start my third set of physical therapy sessions again next week and hope that this last time will be the finishing touches on my recovery. It looks promising for my post concussion syndrome therapy and it might help my dizziness and weakness in my left side as well as my vision problems. The Dr. put tape on my glasses and I am already noticing changes, some good and some problems, but recovery is never just a straight forward movement. My new glasses will come in 2 weeks. How are your exercises? Have you tried any of the exercises I suggested like chair yoga or water yoga or Ta'i Chi?
Becoming a Vegetarian Easily

We have been discussing being vegetarian. We talked about how our health and energy is increased and how we can help the environment and save the animals. This week we will look at how easy it is to start being a vegetarian. The Vegetarian Times again has some great suggestions. It''s easy. It''s almost effortless these days to find great-tasting and good-for-you vegetarian foods, whether you're at your local supermarket or walking down the street at lunchtime. If you need inspiration in the kitchen, look no further than the internet, your favorite bookseller or your local vegetarian society''s newsletter for culinary tips and great recipes. And if you''re eating out, almost any  restaurant will offer vegetarian selections. In a hurry? Most fast food and fast casual restaurants now include healthful and inventive salads, sandwiches and entrees on their menus.
The Easy Vegetarian states that THE FIRST STEP IS TO DECIDE TO BECOME VEGETARIAN!!
So, make your first step, which will be the decision to become vegetarian. Now your next step will be another decision, how to do that – diving in quickly or gradually. Whether you stop eating meat gradually or suddenly is an important decision because each person is different and what works for one won't be the best approach for everyone. This will be determined by your personality type, your physical constitution and the reason you made the decision to go vegetarian.
My Recipes  gives six easy steps to start being vegetarian:
1. Start with small steps. Add more grains, legumes, vegetables and fruits to your diet, and start eliminating meat from one or two meals a week or leave meat out of one meal every day.
2. Adapt family-favorite recipes with meat-free products such as soy crumbles or veggie sausage. I really love Gardein products. There aren't any of my favorite recipes which haven't been remade vegetarian.
3. Explore global cuisines, particularly those in which vegetarian dishes are standard fare such as African, Caribbean, Chinese, Indian, Indonesian, Middle Eastern, and Thai.
4. Read labels carefully to search for "hidden" animal-derived ingredients, like rennet, gelatin, or gum base.
5. Check out vegetarian cookbooks from the library and experiment with different types of meatless dishes. Several sources for reliable and delicious vegetarian fare are Deborah Madison's Vegetarian Cooking for Everyone, Mark Bittman's How to Cook Everything Vegetarian, and Anna Thomas's The New Vegetarian Epicure.
6. Talk to your doctor or dietitian to see if you need to take a vitamin-mineral supplement.
Zen habits makes some great suggestions and is one of my favorite blogs.
 Have good reasons. You need to first think about why you want to become vegetarian, and really believe in it. The rest is easy.
Read up. Before starting anything new, I tend to read as much as possible about whatever it is that I'll be doing. I suggest you do so with vegetarianism. Check out a couple of good books from the library (or better yet, borrow from vegetarian friends). And there are tons and tons of good sites on the Internet. One of my favorites is GoVeg.com.
Find good recipes.  Try GoVeg.com … another favorite of mine is Post Punk Kitchen (also see their forums). In fact, it can all be a little overwhelming … but don't worry, you don't need to decide on anything. Just look through the recipes, take note of a few that look really good, and decide to try a few of them. Or just google your favorite dish but put vegetarian in the search.
Try one recipe a week. My suggestion is just to try one new vegetarian recipe a week. If you like it, add it to your collection of staple recipes that you eat on a regular basis.
Substitutions. Also try your regular recipes that you love, but instead of using meat, use a meatless substitute.
Start with red meat, as it is typically the least healthy. I suggest a gradual transition into vegetarianism.
Adequate protein. One myth about vegetarianism is that you don't get enough protein. Actually, meat eaters usually take in way more protein than they need. And soy protein is a complete protein, just like meat.
Have fun. Most of all, don't make becoming a vegetarian be a restrictive, grueling ordeal.
Plan ahead. Often what gets in the way of new vegetarians is that they go somewhere, and don't think of what they might have to eat.
Cook ahead. Another problem is when we don't have any vegetarian food ready to eat, and so we resort to whatever is easiest (if we don't feel like eating or are too hungry to wait). Instead, you could cook a big pot of vegetarian chili or soup or something, and have it in the fridge for when you're hungry and don't have time to cook.
Vegetarian snacks. I love to eat fruits and cut-up veggies, but there are lots of other great snacks you can eat. Roasted (or raw) almonds, hummus and pitas or veggies, blue corn chips and salsa, low-fat granola, berries with soy yogurt, whole-grain cereals, Kashi crackers … dozens and dozens of snacks.
So again I ask, rather than asking yourself why go vegetarian,  the real question is: Why haven't you gone vegetarian?
Weekly Gardening Update & This Week's Healthy Food Tip
Everything is growing nicely and the new basil is flourishing. All the tomatoes are doing exceptionally well and look very healthy with blossoms.  My shamrocks even have dainty little white flowers. Last week I bought praying mantises because they're part of a solution to garden pest problems. Generally, mantises are good for the garden. It is an experiment I will be trying. I bought two egg cases.  Last year Cabbage aphids  finished off my kale and left only the stalk overnight. Bugs also ate my broccoli so I am hoping the mantises will help this problem and keep my garden organic. They also eat mosquitoes which can be a big problem here.
I made a quick delicious vegetarian rice dish this week to share.  I had mushrooms I needed to use and just started putting ingredients in the pot.
Susie's Rice with Portabella Mushrooms
Serves 4.
In a frying pan, lightly saute in olive oil and butter:
Small box of Portabella Mushroom slices
1 young/spring onion
fresh herbs of your choice ( I love using my fresh herbs and used cilantro, basil, oregano, mint, & rosemary and just snipped off several tops of each spice)
1/2 tsp minced garlic
****
Cook 1 Cup Rice according to directions ( I used quick rice).
Then add the cooked rice to the mushroom mixture.
After it has heated up, add ½ to 1 cup chopped fresh tomatoes, ½ avocado and 1/2 cup mozzerella pearls
salt and pepper to taste
I added 1 scoop Arbonne protein boost for extra protein.
I am going to make this for company Friday and add s 1/2 to 1 package baby spinich to the vegetables while sauteing.
The Road to Self-Discovery
What are your questions about Wellness? Are you dreaming of new things? Are you still making new plans?  Do you take the time to dream or meditate? Have you finished everything you wanted to do? If not, why not? Share with me! Do you have any favorite healthy recipes?  Do you like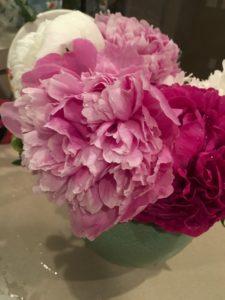 to garden? Next week we will look at the Vegan lifestyle and then we will start decluttering. It should be fun comparing the two and going a little further in our exploration of a healthier dietary lifestyle. We will also continue to look at healthy ways to garden. And I will continue with the next steps I am taking as I did this week.
I  will be taking the  time to stop and smell the roses and enjoy today, as I hope you will.   I am enjoying all my newly potted flowers and the ne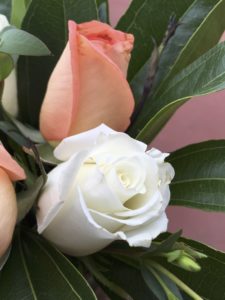 w signs of life popping up from the ground.
We can learn from yesterday, enjoy,  grow, and be mindful in today, and dream and plan the future. Safe journeys until next week :).  I really like the fact that I am becoming a mindful traveler and gardener. If you like my photography and art, you can see my paintings and photography on my art website.