Dreams, Plans & New Directions
I like the fact that I am a mindful traveler. In The Way of the Traveler, Joseph Dispenza states,  Travel transforms us fundamentally  as it moves us literally from one place (the old) to another (the new). When we have learned the lessons of that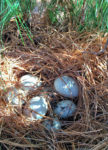 place, travel takes  us once again to the next level of consciousness. Here again new insights about ourselves await. As I start my  search, it is also a figurative search of another higher level of consciousness.  In this way all travel has a spiritual character.  On every trip we have the opportunity to expand our awareness especially if it is undertaken with mindfulness. I have or still am  undergoing the first part of the journey in imagining how it might be, dreaming the journey. The next step will be preparation, deciding what is to be taken and what is to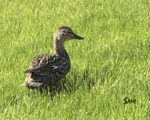 be left behind. The third phase will involve the journey. After that is the homecoming and the recounting of the journey. So I have been called to travel this new wellness path.  As I start my travels it looks like I will have a traveling companion for the next couple of months starting her journey. Mama Mallard has decided to make my yard her nesting area among my three dogs. Life is truly an adventure and we must live mindfully in each day.
Preparations
In planning my next steps, I have decided that I need to get back to reading or listening to at least one book a week on wellness, healthy living, spirituality, life changes, or mindfulness, in addition to my book club selection. This week I started Dan Millman's The Four Purposes of Life. I absolutely loved The Way of the Peaceful Warrior (also a movie) and The Life You Were Born to Live. Dan states that "this book was written for anyone seeking deeper insight into themselves and their lives, but especially for those at a crossroads, facing a challenge or change, when past approaches no longer work." Living with the life-altering effects of the car accident in 2014, I am at that crossroads having to face not only daily challenges still, but no longer able to go where my plans and life were leading me, thus my new search and journey. Although the links are affiliate links where I will make a small amount of money, they are mainly for your convenience should you be interested in the same books.
I am looking into conferences that I have not been able to go to and thinking about giving workshops in the coming years. I have given several workshops at the National Wellness Conference in the past 30 years. I am also interested in traveling to the Blue Zones where the people there live much longer lives. I would love to combine my love of art and photography in that part of my adventure but it is just a seed in my mind right now. If you are interested in wellness, I highly recommend the conference.
I have joined Toastmasters and I have given my first icebreaker speech introducing myself successfully.  My evaluation stated that I was a natural story teller with great facial expressions  and eye contact but used the word "right" too often. I have 10 projects to finish my competent communicator achievement and then I can speak in "speaker's bureaus."  I am also making progress on my leadership path and will be an evaluator this week.  I gave the word of the day last week which was sustainability and I hope this journey will have sustainability. If you want to learn to speak better or gain leadership qualities, Toastmasters is a natural place to begin and a great way to enlarge your social connections as well. So I have the beginnings of a plan and have taken a few steps towards my journey. Each week we will follow The Way of the Traveler" as I work through it, how Toastmasters is going, and look at new books as they come into my journey. We will go back into the Dimensions Wheel as well. This week we touched on spirituality, intellectual in the books and Toastmasters and social. It all flows together.
Arbonne New Products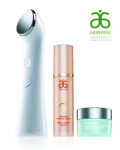 I am so excited about the newest product the  Genius Ultra. The Ultra Gentle ultrasound waves help push the product onto the outer layers of the skin, getting into the ridges and ultimately maximizing your Arbonne® skincare products for faster results. It is on preorder now. I will be starting the 30 day healthy living and beyond May 1st and invite you all to come along with me. Just email me if you are interested or go to my Arbonne site.  I will be discussing it more on pinterest and facebook.
The Road to Self-Discovery
Be sure to check out the National Wellness Conference, June 27-29 as it has some wonderful workshops. I will talk about some next week. What are your questions about Wellness? Are you dreaming of new things? Are you still making new plans?  Do you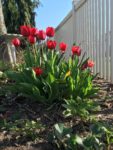 take the time to dream or meditate? Have you finished everything you wanted to do? If not, why not? Share with me! My next step will be delving more deeply into journaling, which I have already begun with this blog. And I will continue with the next steps I am taking. I also will be taking the  time to stop and smell the roses or tulips and magnolias, and enjoy today, as I hope you will.  We can learn from yesterday, enjoy,  grow, and be mindful in today, and dream and plan the future. Safe journeys until next week :).